Hanoi Airport (Noi Bai Airport) map
The visa and immigration procedures at Hanoi Airport (Noi Bai Airport) is simple and straightforward. The process should take around 15 minutes. Photo service is available, however, it is strongly recommended that you have your visa photos taken in advance.
Location
Noi Bai is located 28 miles north of Hanoi City center. Travel time between Hanoi Old Quarter and Noi Bai Airport is about 1 hour or 45 minutes without traffic.
Hanoi Airport map
Hanoi Airport map - Arrival: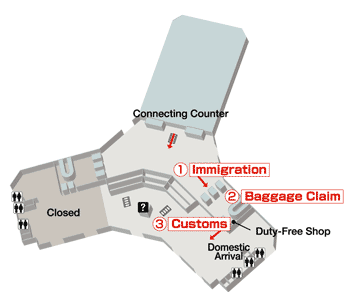 Hanoi Airport map - Departures: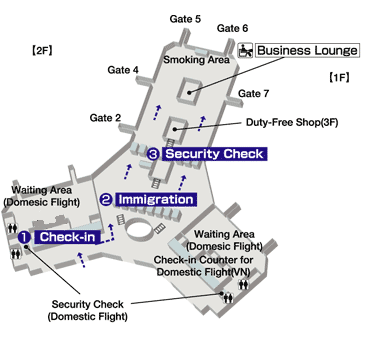 Procedure for visa stamping at the airport
For those who enter any countries do not want to waste time for queuing in stamping visa at the airport should pay attention to our notices in order to make convenient for you. All necessary documents as below should be prepared carefully and accurately:
The Vietnam visa approval letter that we send to you via email must be printed and taken together with you to the airport.
Bring your original passport to the airport and make sure that its valid remains at least 6 months. Your passport is required at least one blank page where the visa sticker can be placed.
Take some money in cash for paying visa stamping fee at Vietnam airport (US$ 45 for 1 month single entry visa; US$ 65 for 29 days multiple entry visa and US$ 95 for 3 month multiple entry visa).
Take two passport-sized photos together.
The wait time hardly exceeds 30 minutes and is usually around 15 minutes. You are required showing all documents mentioned-above to the Immigration Officer and pay stamping fee directly. If you do not forget information, you will not get any hassle.
From Hanoi Airport to city
Taxis are well regulated as you step out of the airport. The fixed rate from the airport to city center is VND 360,000 (US$16) for both 4 and 7 seaters cars (toll charges are included in the price) and you can request for a drop-off at your hotel. There are five taxi companies for your choice below:
1 - Mai Linh taxi - Green
2 - Dai Nam taxi - light blue
3 - Viet Thanh taxi - white colour, blue letters
4 - Noi Bai airport taxi - light yellow
5 - Airport taxi - light blue
Vietnam Airlines has a minibus crew waiting to the far left as you leave the airport. This convenient service will drop you off at the company's office at 2 Quang Trung street, about 1km away from Hanoi Old Quarter. Ticket price is $2 one way.
The cheapest, but not the best option, is local bus. Bus No7 runs every half hour from the airport and stop at Daewoo Hotel and from there you can catch No9 which run straight downtown to Sword Lake. The total ticket price is 40 cents.
Related information